A freight forwarder can often be the backbone of a business, especially when that business is routinely shipping products across international borders.
After all, you can't be everywhere at once, and international shipping regulations are no picnic.
To make sure a product gets from origin to destination, it's important to find a reliable freight forwarding company in California. Additionally, a company's ability to ship internationally is less of a convenience and more of a necessity in today's global economy.
In this post, we're going to go over what you need to know about freight forwarding companies in California, as well as how to choose one, and even give you our picks for the best freight forwarding companies out there.
Ready? Let's roll into it!
Freight Forwarders in California
Freight forwarding companies are responsible for getting goods from origin to destination, so they're a vital part of any business that regularly ships across international borders. Whether you're an exporter or importer, a good freight forwarder can help you get your product to its destination quickly and safely.
These are the people who connect importers and exporters around the world. They communicate with your partner companies to make sure they have all of the information they need to ship or receive goods and then coordinate with customs brokers and other logistics partners to ensure that everything goes smoothly.
California is a popular point for freight forwarding and shipping on the west coast of North America. With its proximity to Canada's border, and as a land gateway to the West, as well as to Mexico.
Freight forwarding companies in California service key cross-border routes such as:
Los Angeles to British Columbia
Los Angeles to Alberta
San Francisco to British Columbia
San Francisco to Alberta
San Diego to British Columbia
San Diego to Alberta
California to Oregon
With these routes reaching major urban centres on both sides of the border, you can access a wide network of customers, retailers, or other vendors.
Having cross border freight companies you can trust with your cargo is key to success – companies like Moto. We are able to handle freight forwarding and consolidation across North America to save you time, energy, and resources.
How to Choose International Freight Forwarders
Choosing a freight forward company isn't an easy job – after all you're trusting them with your business' livelihood! But if you follow these tips, you can avoid the pain that can come with choosing the wrong partner.
And that starts with choosing the right partner to work with.
We've rounded up the top tips for choosing the right freight forwarding companies in California so you can be comfortable with your decision before you start working with one.
Check References
You wouldn't hire just any candidate with a flashy resume, now would you?
You'd ask for references first to determine if their promises line up with their abilities.
So why not do the same when you hire international freight forwarders?
Before you work with a freight forwarder, make sure they have references so you can find out the truth behind their claims. Anyone can make promises, but if there are no reviews to back them up, or other customer experiences, you're taking a risk.
Talk to the companies that they've worked with before and ask how it went.
You should specifically check cross border freight companies' reviews and customer experiences for things like:
On-time deliveries: Were the deliveries made on time?
Damage rating: Did items arrive undamaged?
Tracking: Were they able to keep you updated as your items moved through the shipping process?
Customer Service: Were they easy to get in touch with if you experienced a problem or had questions?
Pricing: Was the quote accurate and fair to what you ended up paying?
Extra Services: Can the company provide extra accessorial pricing on delivery or pick-up?
You can also check reviews online to see if other people had similar experiences. This will help you find out whether your cross-border freight companies have been reliable in the past and give you an overall idea of their quality as a business.
Thoroughly Read Contracts and Proposals
You've heard it before, but it's always worth repeating – always read the fine print.
Skipping the details can be an expensive and time-consuming mistake to make. It's often where the hidden disclaimers, costs, and other information you can't afford to miss is hidden.
Your quote from international freight forwarders will likely include the following information in their freight quote:
Shipment information (size, weight pallet count, piece count, and commodity classification)
Incoterms (international terms for specifying who is paying and responsible for the shipment)
Haulage Fees (the cost of moving the goods)
Ancillary Charges (terminal handling charges, documentation fees and other administrative costs)
Accessorial Fees (fees for extra services needing to be rendered)
When getting a quote for a freight forwarder California, make sure you are clear about the terms and conditions of the contract. Make sure you know what's covered by your quote and where extra costs may be incurred. If possible, request a copy from the company before signing any contracts.
Geographic Service Area
This may be most important of all! You need to make sure that international freight forwarders service the area you need, as well as connect you to a larger service network of ancillary providers.
Whether you are looking for a freight forwarder Portland Oregon or a freight forwarder Los Angeles, you need to make sure that your provider can service the areas where you do business. Most providers should have a departure schedule and service map handy for you to look at so you can easily see where they operate.
Moto is proud to service key terminals across Canada and the USA, with departures several times per week on our lines, and local service daily. As you can see in the image above, we cover most of North America, and if we don't go there, we'll connect your freight to a trusted partner who does. Our partners are fully vetted to ensure they share the same values as us and are up-to-date with all safety regulations.
Shop Around
Shopping around for any kind of business partner, service, or even consumer product is usually the ticket to success. With ample research under your belt, you can make an informed decision and feel confident you've made the right choice.
When you're looking for the best freight forwarders, you should do some shopping around, and do the following:
Get quotes from at least a few forwarders. You should compare prices and services offered by each company, as well as the quality of customer service and reliability.
Get a written quote from each company. The quote should include information about extra fees and how long it will take for your shipment to arrive in its destination country or state.
Ask about any guarantees that they offer regarding their services (if they have any).
Compile your research and discuss it with your team to make sure you're all on the same page about what's best for your business.
That way, you know the international freight forwarders you're working with will offer you the best service possible.
Top 5 List of Freight Forwarders
Choosing the best international freight forwarder for your business can be a daunting task. There are many different aspects to consider, from shipping volume and size of shipments to price and service quality. Fortunately, we've done the hard work for you by putting together this list of the top international freight forwarders in California.
We evaluated each company based on their reputation, customer service, pricing structure and more so that you can have peace of mind knowing that your company is working with one of the best in the industry.
Ship Moto
OK, we wouldn't put ourselves first on this list if it wasn't for good reason.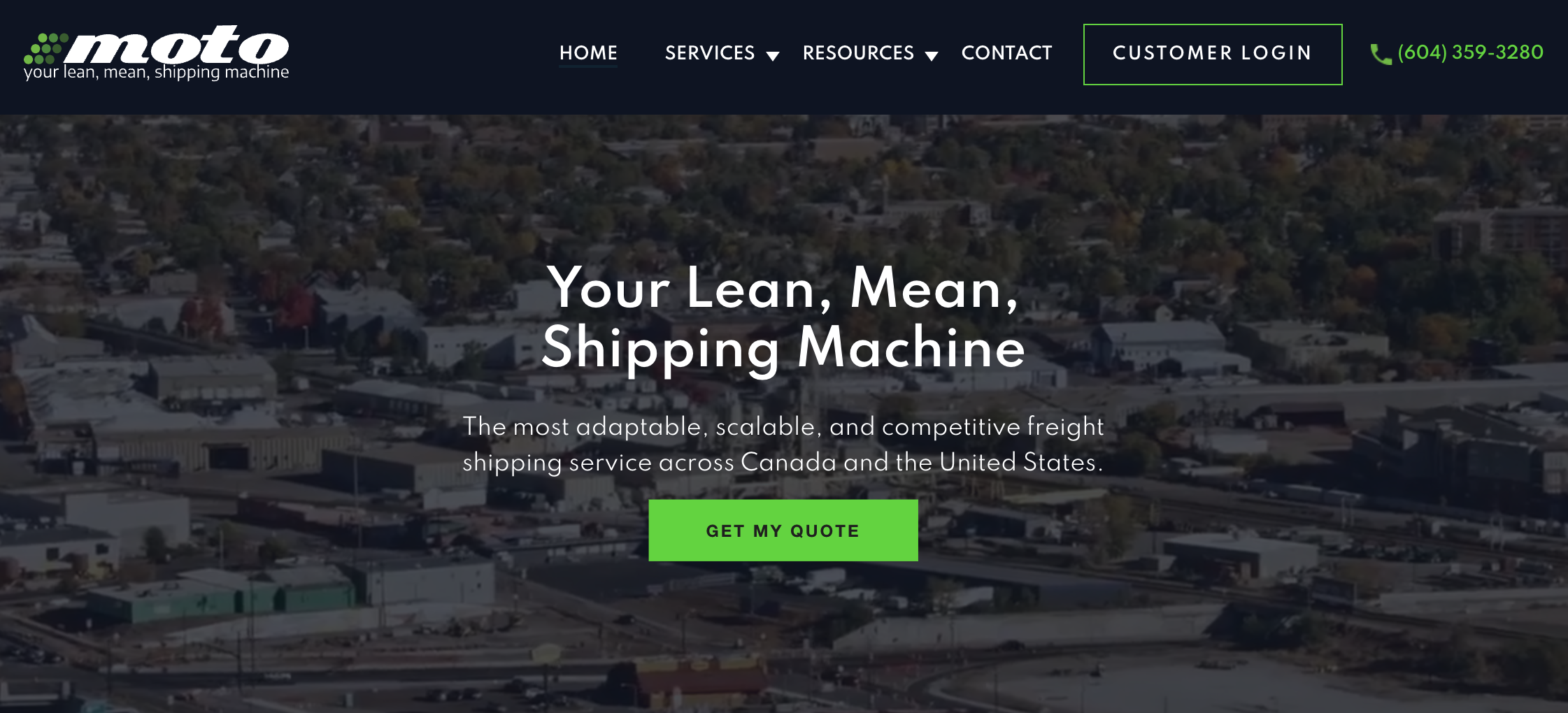 Approved Freight Forwarders
https://www.approvedforwarders.com/freight-services/international-freight-services/
City Business Shipping
Action Freight International
FAQs
Let's cover some of the most frequently asked questions when it comes to choosing a freight forwarder California.
What Is Considered a Freight Forwarder?
A freight forwarder is a company that specializes in arranging the shipment of your goods.
They act as an intermediary between the end-user of a product and the company that manufactures it.
It's important to note that freight forwarding is not just for massive corporations, but also for any kind of business that want to ship products overseas with less management hassle.
Are Freight Forwarders Federally Regulated?
If you've worked with international freight forwarders before, you're likely familiar with the Federal Maritime Commission (FMC) and the International Air Transport Association (IATA). Both organizations regulate their respective industries and have a number of requirements that must be met in order to conduct business.
Specifically, ocean freight forwarders are licensed by FMC while air freight forwarders maintain an IATA number and are indirect air carriers regulated by TSA.
What Are Good Qualifications of a Freight Forwarder?
A good freight forwarder will be able to handle all the logistics of your shipment. They should be able to take your shipment from start to finish, and that means they should have a good understanding of the logistics process.
Freight forwarding companies should offer:
Experience with international shipping
Understanding of customs regulations and laws
Consistent customer service and communication
Transparent pricing and quotes
Is Freight Forwarding Illegal?
You might be wondering if international shipping is illegal. Or maybe you're concerned about whether or not freight forwarding is a legitimate business model.
We'll get back to those questions in a minute, but first it's important to note that freight forwarders are an essential part of the shipping industry and have been for quite some time. In fact, its origins date back to ancient Egypt where goods were transported by caravan across land borders.
Today, with the rise of global trade and e-commerce websites like Amazon and eBay, it's more important than ever for businesses to understand how international shipments work – and what kind of services they need when they're sending their goods abroad.
In other words: If you're still wondering if freight forwarding is just some made-up term used by shady companies trying to make money off unsuspecting customers (or worse), worry no more! The truth is there are many factors involved in transporting goods across international borders – and these include taxes, regulations and documentation that must be handled carefully so as not cause problems along the way (like expensive fines!).
What Does a Freight Forwarding Company Do?
A freight forwarding company is an important part of the global supply chain. They provide a range of services from cargo consolidation to warehousing, and they can even take care of your insurance needs.
Freight forwarders are often responsible for coordinating all aspects of the transportation process. This includes securing space on ships or planes with carriers that move cargo around the world every day. Freight forwarders also provide other services such as packaging and handling your freight by hand, storing it until it's ready to be shipped out again, or even delivering it themselves!
What Are the Most Popular Types of Freight Forwarding Services?

For most businesses, the term freight forwarding is synonymous with truck freight forwarding.
However, there are a number of other types of services that you should be aware of when discussing your business needs.
Air freight forwarding involves moving cargo from one place to another by plane. Air freight is typically more expensive than other methods because it's faster and allows for more sensitive items to be shipped without damage. You're likely familiar with this type of service if you've ever received a package from an online retailer that was shipped directly from overseas via plane (instead of being routed through a less direct route).
Ocean freight involves transporting goods by sea-vessel across large bodies of water and can actually be quite complex due to weather factors that delay or halt shipping altogether. Ocean freight services usually carry large volumes at once and tend to offer lower rates than air shipments due to their greater size – but they also tend to take longer than air shipments because they travel much further distances while being loaded onto massive boats before they begin their journey toward land again!
Railway transportation involves getting cargo on or off trains along railroads as well as within them; this requires specialized equipment such as low-bed trailers for hauling trucks between stations so each section stays clear during operation hours (which means not only does it cost less per mile but also takes less time overall!)
Conclusion
If you're looking for a freight forwarder, it's important to do your research. Make sure to check references and read reviews. And don't forget to ask around – your business contacts may have experience with freight forwarders that they can share with you. At Moto Transportation, we pride ourselves on being the best freight forwarder in California. We offer our clients efficient and safe shipping services, and we always put the customer first. Contact us today to learn more about how we can help your business grow!