Running a business is a complex undertaking.
You have so much to consider.
From the front-of-house tasks like customer service and marketing to back-of-house tasks like administration and logistics, you don't have time to be an expert at all of these departments. Instead, you hire (typically) staff to fill those positions and departments. They are the experts in their departments.
So why not hire a freight forwarder to do the same thing for your complex shipping needs?
Freight forwarders can help you save time and money and ensure you can meet all the needs of your growing business and its clients.
In this post, we will break down the facts on freight forwarding and get into the benefits of implementing it for your business.
What are Freight Forwarder Services?
In the world of logistics and supply chains, freight forwarders refer to businesses that specialize in arranging freight for third parties. When you use freight forwarder services, they are usually responsible for your freight until it reaches its destination and can offer you an array of benefits, particularly for fast-growing businesses with small teams.
Freight forwarding companies are 3PL (third-party logistics) businesses specializing in getting freight from its origin to its destination and everything that happens in between. This can mean they take care of the multiple carriers, modes of transportation, and regulatory compliance needed along the way.
So how exactly does the process of freight forwarding work?
Let's say you own a business, which is headquartered in Vancouver along with your warehouses. You have a bunch of locations around North America, though, that you need to distribute products to on a weekly basis. That's a lot of shipments to manage, and multiple countries to know the customs processes for. So you hire a freight forwarding company to manage these shipments.
They would pick up your products in Vancouver warehouses and essentially get the separate shipments distributed to where they are needed.
You can see how this would take a lot of work off of your plate!
That's why many growing businesses seek a freight forwarder to accelerate growth, save time and enjoy more cost-effective shipping.
These companies have governing bodies and international guidelines to ensure you receive a consistent, fair experience.
In Canada, there is the CIFFA, which has been around since 1948. Founded to recognize the importance of freight forwarding as a part of global trade in Canada, CIFFA gives standards and best practices for freight forwarders located here.
Among other global organizations like FIATA (of which CIFFA is a member), it focuses on the best ways to move freight by all modes of transport across global borders in a way that is smooth, efficient, and timely. FIATA is both a reference for international policy, promoting trade between freight forwarding companies around the world and an organization that is not tied to any one government to focus on the representation of freight forwarders globally.
Types of Freight Forward Logistics
There are different kinds of freight forward logistics that deal with specific geographic needs (like domestic or international), as well as modes of transportation that your cargo can travel by.
Not all carriers offer every kind of mode, which is why it's great to have freight forward logistics on your side.
It gives you the ability to get connected to the best carriers for your needs. If you need to have cargo travel across multiple modes of transportation and countries, the freight forwarding team will look after the particulars plus any hiccups along the way.
The table below outlines the various types of freight forwarding modes of transportation as well as what they offer and typically who benefits from them.
Type of Freight Forwarding Mode

Features & Benefits

Air Forwarding

Freight transport coordination through air travel
Fast, efficient mode of transport
Suitable for long distances or short priority shipments

Land Forwarding

Freight travelling by truck or rail, or a combination of both
Best for bulky or heavy shipments travelling shorter distances
Ideal when businesses require frequent back and forth between two points, usually domestically

Sea Forwarding

Freight travelling "by ocean", typically in sea containers on large ships.
Best for sending large items in bulk quantity
Not always the fastest mode, but it can be most cost-effective
Domestic Forward Freight Systems
Need to ship your products within a country? Then you're keeping it domestic in terms of your shipping and freight forwarding method.
Just because you only ship within your country does not mean your shipping needs aren't complex.
You could have the need to ship products out across the country daily, and that could be not only complex but rife with opportunities for mistakes — especially if only one or two personnel are in charge of all of that!
Consider freight forward logistics your personal concierge for shipping domestically. They can also support you if you're hoping to scale your business from domestic to international, or just to farther corners of the country than before.
International Freight Forwarder
If you need help getting your goods around the world or just across the border, you'll need an international freight forwarder on your team.
They can help translate the complicated, intricate web of international customs and tariffs for you and avoid mistakes that ultimately lead to fees and delays. Not ideal, right?
When you work with an international freight forwarder, you can save time by avoiding spending time:
Connecting with overseas providers
Understanding and interpreting rules and regulations
Finding the most economical mode(s) of transportation
Ensure your freight is packaged appropriately across carriers/stops
Their knowledge of customs and border regulations can be beneficial if your freight crosses multiple countries with different compliance requirements. Plus, you can more easily track your cargo, and rest assured that it's getting to where it needs to go safely and on time.
Freight Forwarder vs Broker
You'll often hear the terms freight broker and freight forwarder used interchangeably.
While they are very much related, these two third-party logistics companies serve different primary purposes.
Customs brokers, or freight brokers as they are sometimes called, specialize in helping get your freight across geographic borders. When you import or export goods, a ton of information needs to be generated about the shipment so it can be properly handled and classed for tariffs if needed. That can be a lot to get right on one shipment, let alone dozens in a day or week.
That's why you use a customs broker — they handle the paperwork hassle, and you rest easy.
Some would say you can be both a freight forwarder and customs broker and that this is the evolution of freight forwarding, as seen in the image below. They consider freight forwarding a natural extension of brokering customs for their clients. This paves the way for further value-added logistics services like 3PLs do in today's landscape. As technology advances and global trade continues to grow, freight forwarding will continue to evolve and grow as the world marketplace changes.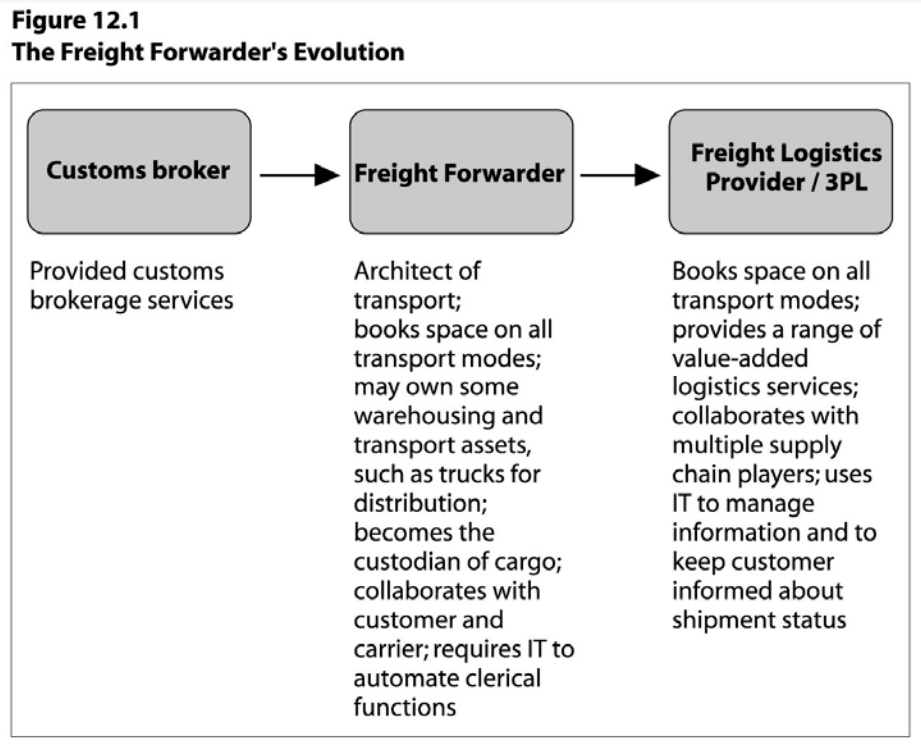 Other firms, like Moto, will offer you reliable recommendations for a customs broker you can trust with your shipment.
Role of Freight Forwarder Companies
Everyone has a role to play in logistics. It's a complicated dance of good timing and coordination.
So, where do freight forwarder companies fit into this dance?
Now that we have reviewed some of the basics of freight forwarding, let's get further into the heart of what they can do for your business and the role of freight forwarder companies in logistics.
Role 1: Pricing and Booking
Imagine you're looking into shipping something to a new country or state for the first time.
You need to know so many things about your shipment and your destination's importing rules that it can get overwhelming.
You could look online and try to get a crash course in everything you need to know about logistics and import rules, fees, and documentation — but how can you be really sure you're getting it right and that you're getting the best price for the services you need?
The short answer is that if you go the DIY route, you're going to miss out on the expertise and knowledge freight forwarder companies can provide you.
They can advise on:
Costs to ship the freight
Port charges
Consular fees
Costs of special documentation
Insurance costs
Handling fees
Rules and regulations regarding your freight
In addition to providing that information prior to your freight's departure, it is the role of freight forwarder companies to give you a complete and detailed quote so you know what to expect on the other side of the freight's delivery. The same can't be said for when you take the DIY approach.
Role 2: Transportation Coordination
Another key role of freight forwarder companies is to make the actual booking of space for your cargo.
This could be space on air, sea, land, or rail transportation and is one of the best parts of working with freight forwarder companies. You don't have to worry about trying to make the connection between Vancouver and LA and Shenzhen as efficient, cost-effective, and timely as can be — that's the role of the freight forwarder.
Sounds pretty great if you ask us.
Plus, freight forwarder companies typically have an extensive network of carriers to work with, so you know whether you need air cargo, containerization or LTL shipping, you get access to the lanes and the expertise you need to be competitive in today's business environment.
Role 3: Paperwork and Documentation
Last but not least, the third role of freight forwarder companies is to handle the documentation requirements for the cargo as it passes through the countries in your transportation chain.
Sometimes, your cargo has to pass through multiple countries in order to make it to its destination. This can mean a lot of paperwork. It can also mean the need for a thorough understanding of how your product is required to move through those countries.
Typically required documents cover things such as:
Who owns the goods being transported (especially if this changes as the cargo travels through the transportation chain)
Proof that all permits, required certifications, and paperwork have been completed for the whole transportation route
Information about the cargo, including bill of lading
Notices about the contents and their route (such as procedures or rules to handle the cargo)
Conditions and liabilities of the specific contract (like Incoterms from the International Chamber of Commerce)
Declarations, permits, invoices, and other documents that accompany the cargo for customs clearance purposes
Benefits of Using a Freight Forwarding Company
If you're here, you're probably looking for ways to do your business more:
Efficiently
Cost-effectively
Proactively
As a busy business owner, you want to accomplish all of those things, but that's not exactly going to happen with the wave of a magic wand.
You need a real solution like freight forwarding to get you there.
There are plenty of benefits to working with a freight forwarding company, but we're going to highlight some of the most important ones here.
Benefit 1: Time Savings
Saving time is often saving money.
Think of it like this — you may decide you want to go to three different grocery stores to get the best deals on your weekly shop to save some money. So you end up driving around town for an extra 30 minutes doing so. You thought you were going to save money, but you just end up spending the same amount on gas, plus you wasted another 30 minutes of your day that you could've spent working in the yard.
While we're talking about household chores in that example, the same concept applies to working with a freight forwarding company.
You get the benefit of someone else managing transportation, booking, coordination, and documentation, which saves most business owners time and money. After all, you're not a supply chain professional. You're a business owner who's the expert in your own business, so why not leave the rest to someone else?
Freight forwarding companies offer you the ability to focus on your business, especially when problems arise. When things are mislabelled, or they are taking too long to get there, you can end up feeling frustYou need someone to put out the fire fast to avoid problems for you or your client, and you don't even know where the hose is stored! That's why working with a freight forwarding company is so rewarding, as they tackle those fires, or problems, as they arise instead of sending you into a total panic.
Benefit 2: Expertise
Ever heard the saying, "a jack of all trades is master at none"?
Well, that definitely applies in business, particularly when it comes to logistics.
When it comes to buying and selling goods, you need to know everything about the goods and business you handle. You want to be the expert at, say, sporting goods or housewares, or automotive parts. You don't also necessarily have to have the ability to know everything about the ports, carriers, tariffs, costs, and timelines involved with importing and exporting your goods.
That's one of the benefits of using freight forwarders. You have another entity on your team who can be your personal expert when it comes to things like handling multimodal freight. Multimodal and intermodal transportation can be a lot to handle — you have to sort out not only one leg of travel for your goods, but two or more. Using a freight forward company relies on their knowledge and expertise in navigating that complex series of movements and saves you the hassle of learning the hard way.
What else could a freight forwarder company offer your business? Sound, deep knowledge of regulations about transport modes and shipments themselves.
They have up-to-date information about the sometimes changing expectations at entry and exit of countries around the world. They also know the most economical way to get it there, even if it's something that is classed as dangerous goods.
Dangerous goods are goods that carry a certain risk in transporting them. They include things that seem like an obvious danger (medical waste, gasoline, fireworks) to things that may not seem dangerous at the outset (paint, hairspray, fire extinguishers). You may not even realize that there is something you need to be compliant with, and every jurisdiction your freight passes through may have a different set of regulations to boot.
Freight forwarders give you the peace of mind that you're going to have a smooth shipping experience rather than a shipping container-sized headache upon your goods' arrival at their destination.
Benefit 3: Cost Savings
Like in most things, volume equals savings.
Because freight forwarding companies have many clients all over the world, shipping at a time, they can negotiate better rates and terms with their partner carriers.
What that means for you is that you save money without having to have the buying power of a massive company. Plus, you get access to a variety of professionals who can do things from helping you find cost savings in your warehousing solutions to helping you through specific complex projects with a dedicated account manager.
This is not to mention all of the time you'll save by giving this to the right people like us — your time is worth money too. By not wasting your time on logistics, you can focus on the growth and success of your business.
FAQs About Freight Forwarder Services
Is There Forward Freight Tracking?
Since it can take time for your shipment to reach its destination, you understandably want to know where it is and when it will likely arrive to avoid that panic that something bad has happened to the cargo along the way! Thankfully, there's forward freight tracking to ease your worries.
Moto Transportation offers easy-to-check forward freight tracking through our online portal and allows you to keep an eye on things with updates as your freight moves across the route. You can also submit a manual request if the online portal isn't your thing, so you can keep tabs on your shipment with ease.
Can Anyone Use a Freight Forwarder?
Yes. If you're a business owner, you can likely get a freight forwarder to help you accelerate your business and make shipping a more smooth experience for you and your customers.
Should I Use a Freight Forwarder?
Though anyone can use a freight forwarding company to help them with their logistics, you might be wondering if it makes sense to use one.
Two things to consider in this case would be:
Whether or not you have one or more dedicated in-house staff to handle all things logistics.
Whether or not your shipping routes are direct and straightforward or complex and multimodal.
If you don't have an in-house team but only ship locally, regionally, or even nationally, you'll likely be ok without a freight forwarding company on your side but with growth, you may consider it. If you have no in-house staff and you are shipping all over the world, it would be beneficial for cost and time savings to use a freight forwarder.
Start Saving Time & Money with Freight Forwarding
So you can probably see the value in freight forwarding shipping services by now.
You can save time and money by implementing their services and ensuring you have serious expertise and knowledge in your back pocket. Plus, you can avoid hang-ups and delays at the border by getting your shipment particulars right the first time.
Moto is here to help you with freight forwarding shipping services. We offer pain-free shipping and coordination services to help your growing business expand. Get in touch with us to discuss how we can service your freight forwarding needs.