You can't beat a removable gooseneck trailer when it comes to hauling cargo. These trailers have a long hitch that extends up to the top of the vehicle's bed. They're versatile, allowing you to carry tall loads or multiple pieces of equipment at once – no matter how great the size of the equipment or cargo. That's why they're so popular among contractors and other industries that need hauling large loads, thanks to the ease they provide for loading and unloading and the ability to fit awkward, oddly shaped or oversized loads.
But how do you know when to hire one? And what else do you gain by using them for your business transportation needs? We're here to answer these questions, among others, and get to the bottom of working with reliable transportation providers like Moto.
Ready? Let's get into it!
What Is a Removable Gooseneck Trailer?
An RGN trailer, also known as a removable gooseneck trailer, double drop or low boy, is an excellent choice for those who need to transport large equipment. With an RGN, because it drops in the middle – it gives you more height within state or provincial limits and can fit larger pieces of equipment on your trailer!
The drop in the middle of a bridge is called the "well." The well usually spans about 29 feet, where you place large equipment or loads too tall for other parts.
Removable gooseneck trailers can be used in a variety of applications, including:
Hauling equipment (such as construction vehicles)
Transporting animals (such as horses and cattle)
Moving equipment (such as tractors and farm equipment)
Moving vehicles that are too tall for standard trailers
Experts like Moto can help you determine how to ship large items, including identifying the equipment necessary for safe transport.
Advantages of RGN Trailers
A lowboy trailer such as an RGN trailer is an excellent option for anyone looking to haul a wide variety of loads. You can use these trailers in many industries, and they're helpful for applications that range from farming to construction. They are also ideal for use in a variety of weather conditions.
And depending on your use, you can reap different, unique benefits from using these trailers. But generally speaking, there are three key advantages to these pieces of equipment.
We'll get into the details on RGN trailer advantages like:
Their size
Their ease of use
Their versatility
Advantage #1: Size
Sometimes, a time comes when size really matters.
And in the case of hauling cargo, it is especially important to know just how much space your load is going to need. Not only does it help you compare LTL versus FTL, but it also helps you know when you'll need a specialized size of trailer to help get the job done.
If you need to transport heavy, oversized loads, a removable gooseneck trailer is a good choice. These trailers are large and have a high load capacity, meaning that there are few other types of equipment that can haul heavy, oversized loads like RGNs. Some removable gooseneck trailers can even haul up to 42,000 pounds or more!
That means shippers can use RGN trailers for hauling large equipment or machinery such as:
Forklifts
Tractors
Dump trucks
Backhoe loaders
Harvesters and combines
Articulated haulers
Pavers
Excavators
Drilling machines
Advantage #2: Ease of Use
Removable gooseneck trailers are easy to use.
And why is that?
That's because of the "RG" in "RGN" – the removable gooseneck. This allows the front of the trailer to detach, after which a large piece of equipment, like a tractor or excavator, can drive directly onto it – easy as pie!
And why is that? Well, it's pretty simple. After loading the equipment by driving or lifting it onto the trailer, a pin or strap is reattached to the gooseneck and used to secure it. Then, it's locked in and ready to go.
This makes loading and unloading from RGN trailers:
Easier
More organized
More efficient
By simply allowing equipment to be driven off the trailer rather than painstakingly lifted off and moved to the appropriate place or allowing access to the load from all sides of the trailer, you save ample time and money on your loading and unloading processes. It can also help you avoid equipment damage during this process and make it speedier because of the lack of restriction by the sides of the trailer, among other benefits.
Advantage #3: Versatility
For certain types of trailers, you know there's a pretty defined set of end users. Take reefers, for example. These trucks are only good for products that need to be kept cold, like food or flowers, and you wouldn't use them for construction materials, say.
RGN trailers, on the other hand, have almost endless end users. Businesses can use a removable gooseneck trailer for many different purposes – from delivering the equipment your team needs to the next jobsite, or bringing the product your customers ordered to their door.
For example, RGN trailers are just as likely to be used in the oil and gas industry for hauling and storage of massive pieces of equipment as they are to be used in agriculture to haul equipment or as a transport vehicle for livestock.
Another time these kinds of trailers are useful? Removable gooseneck trailers can be used by heavy-duty towing companies as well when transporting specialized equipment that doesn't fit any other sort of trailer or towing system. This happens more often than you'd think. Just think about how some of the most giant items in your everyday life get to where they need to go. From prefabricated homes to giant wind turbines, RGN trailers may be helpful in their transportation – unlike closed units such as a
These are just a few endless uses of RGN trailers that can prove to be a flexible solution for many businesses and shippers. Getting in contact with a trucking transportation company like Moto can help you make the connection between you, your shipment, and the right transportation and logistics solution.
4 Common Users of RGN Trailers
The RGN is a versatile, multi-purpose trailer that can be customized to fit your needs. It's often used by industries like construction, oil and gas, agriculture and heavy-duty towing.
You might be wondering if the RGN is suitable for you – let's take a look at some of the most common uses for removable gooseneck trailers in each of these industries:
Oil and gas
Construction and heavy equipment
Agriculture
Heavy duty towing
#1: Oil and Gas
Often, huge freight must be hauled over long distances in the oil and gas industry, and this sector requires a lot of it, too.
Various lowboy trailers like RGN trailers transport:
Drills
Mining equipment
High-capacity shovels
Generators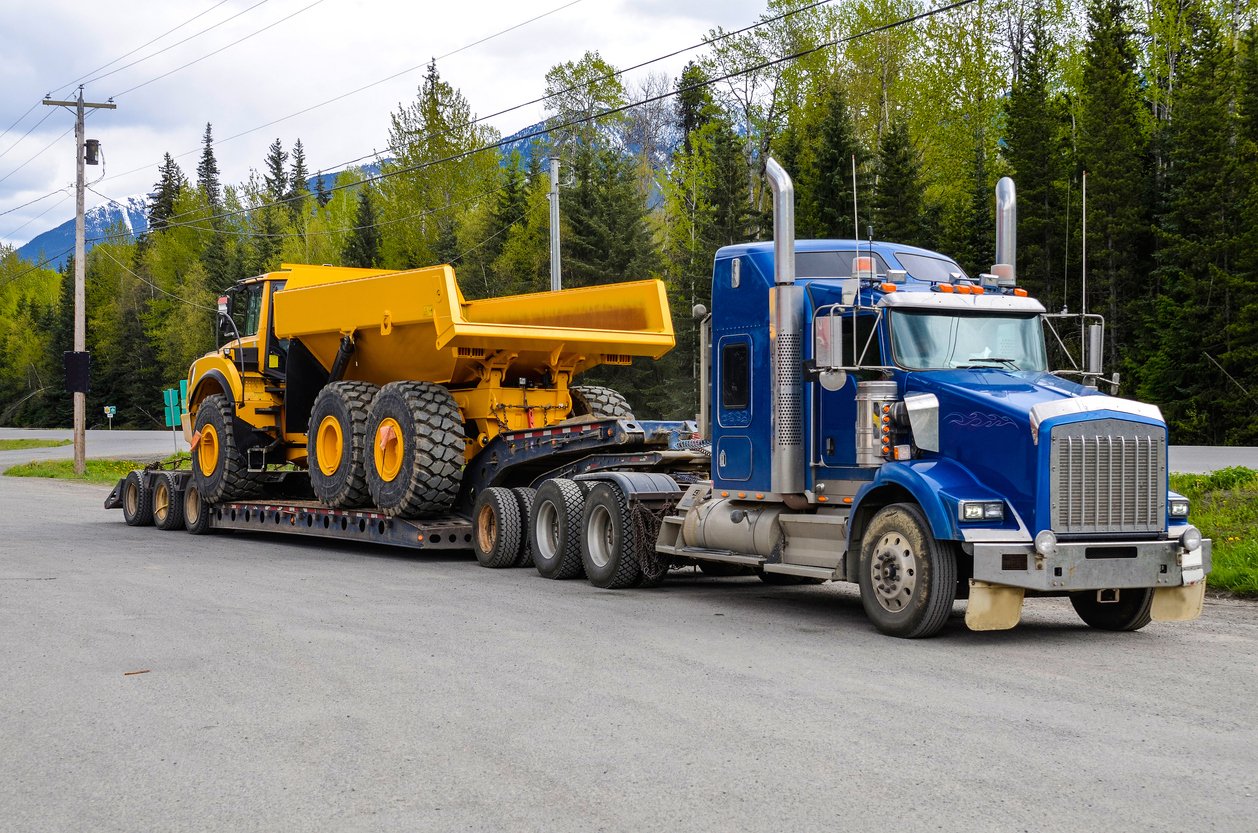 Depending on the equipment being transported, it may be necessary to use customized RGNs or other versions of lowboy trailers.
Just because these types of equipment are large, doesn't mean they don't need the same white-glove service from end to end that fragile glassware requires. Since these kinds of specialized pieces have a large size and a large price tag, it's important to find a provider that can offer you an RGN trailer with a miniscule damage rating and experienced staff and connections that can safely get your equipment where it needs to go -- a provider like Moto.
#2: Construction and Heavy Equipment
The RGN trailer is an excellent choice for construction, as it allows you to haul heavy machinery and equipment. If you're in the market for hiring an RGN trailer for heavy hauling, there are some essential things to consider before making your decision.
The first thing to know is that there are several types of gooseneck trailers available from trucking transportation companies.
The most common ones are flatbeds and drop deck trailers. However, utility and dump bodies are available if you need those options. Working with a trucking company with one of these vehicles already in place makes it easy to accommodate your needs without any additional capital investment required upfront.
#3: Agriculture
You'll need an RGN trailer to handle the load if you're in an agricultural business. And thanks to the detachable neck, it is very convenient to load or unload agricultural equipment, products, or livestock, and plenty of options exist to meet your unique farming needs.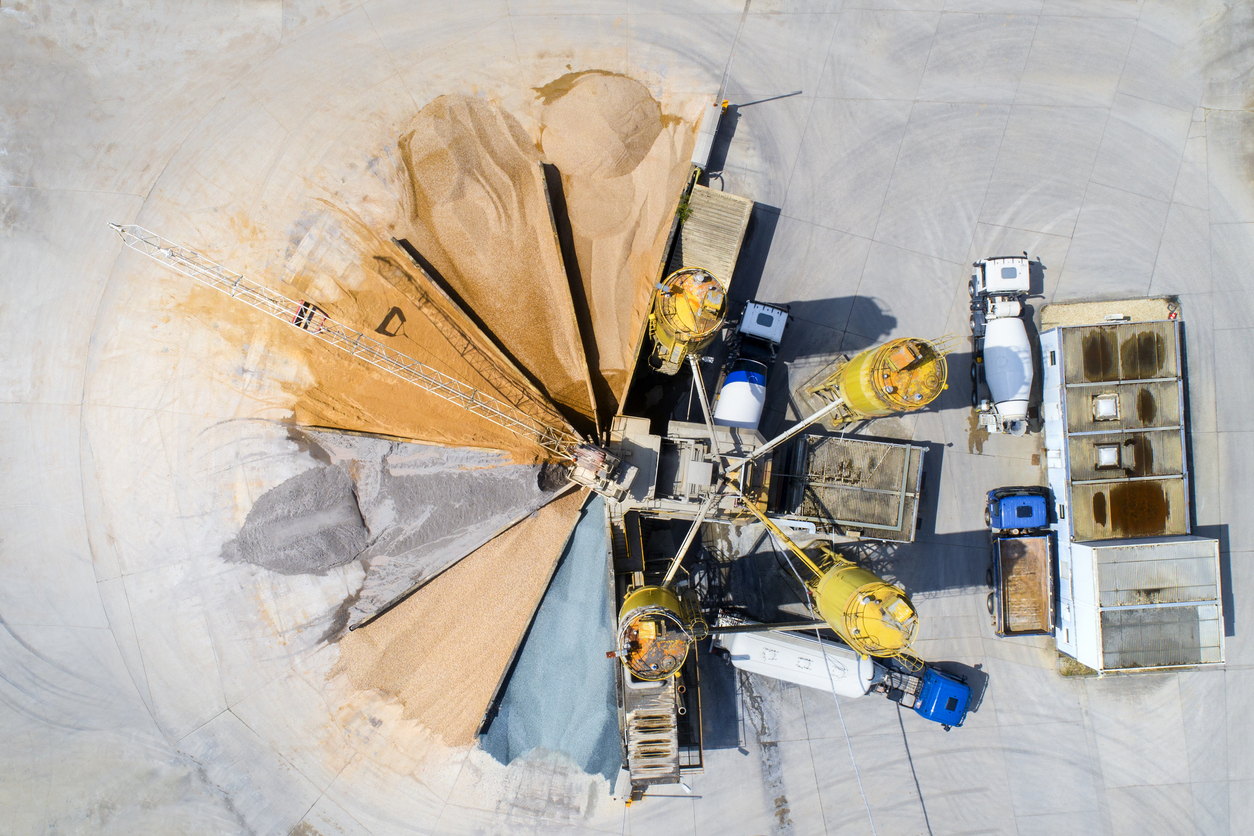 Especially in areas where agriculture is a major industry, hauling equipment for the industry is extremely important. In order to transport anything across the country or even from Canada to the US, you need the right trailers. As lowboy trailers, RGNs are the most commonly used for agricultural transport due to their ease of loading and unloading heavy machinery and bulky loads.
#4: Heavy Duty Towing
For heavy hauler towing jobs, it can be necessary to utilize an RGN trailer. From RVs to machinery, these mighty machines need mighty trailers to help them reach their destination.
But it can get confusing with so much jargon thrown around when you're trying to find an RGN trailer for towing.
Here's a quick breakdown of some standard RGN trailer terms in the table below.
| | |
| --- | --- |
| RGN Trailer Term | Definition |
| Towing Capacity | The maximum amount of weight your gooseneck trailer can tow. |
| Towing Weight | The maximum weight that can be towed on a gooseneck trailer without exceeding its towing capacity. |
| Trailer Width | The distance between the outer edge of one tire to another when measured at ground level. It does not include fenders or mirrors. |
| Trailer Length | How long the gooseneck trailer is from the front bumper to the rear bumper, including any equipment mounted to the front and rear of the unit (such as a winch or fifth wheel). |
| Trailer Height | Vertical distance from ground level to the top of the cab when measured from the centerline of tires. |
| Trailer Axle Configuration | Whether a tandem axle has an equal number of single wheels (two) or odd numbers (four). Also called "single" vs "dual" axles. |
FAQs
You've got questions about RGN trailers, and we have the answers you need! Let's get into the details on the most frequently asked questions.
Still figuring out the ins and outs of RGN trailers? Feel like you're not sure which way is up? Moto is here to help. We can answer any questions you may have about RGN trailers, and beyond – just drop us a line or give us a call.
What Can I Haul With an RGN?
You can haul a wide variety of items with removable gooseneck trailers. There are many kinds of removable gooseneck trailers, each designed for a specific purpose. And depending on their purpose and size, you are pretty much only limited by your imagination – well, that and if your product can stand lack of climate control and potential weather exposure.
These types differ significantly in loading capacity and ease-of-use features because they're designed for different purposes. Consult your 3PL company of choice for help determining the right angle to approach your load with.
What Is the Difference Between Step Deck vs Flatbed?
The main difference between a step deck and a flatbed trailer is that the former has a rear step, while the latter has a flatbed floor. Both kinds of trailers are available in capacities from 2/4 tons to 40 tons.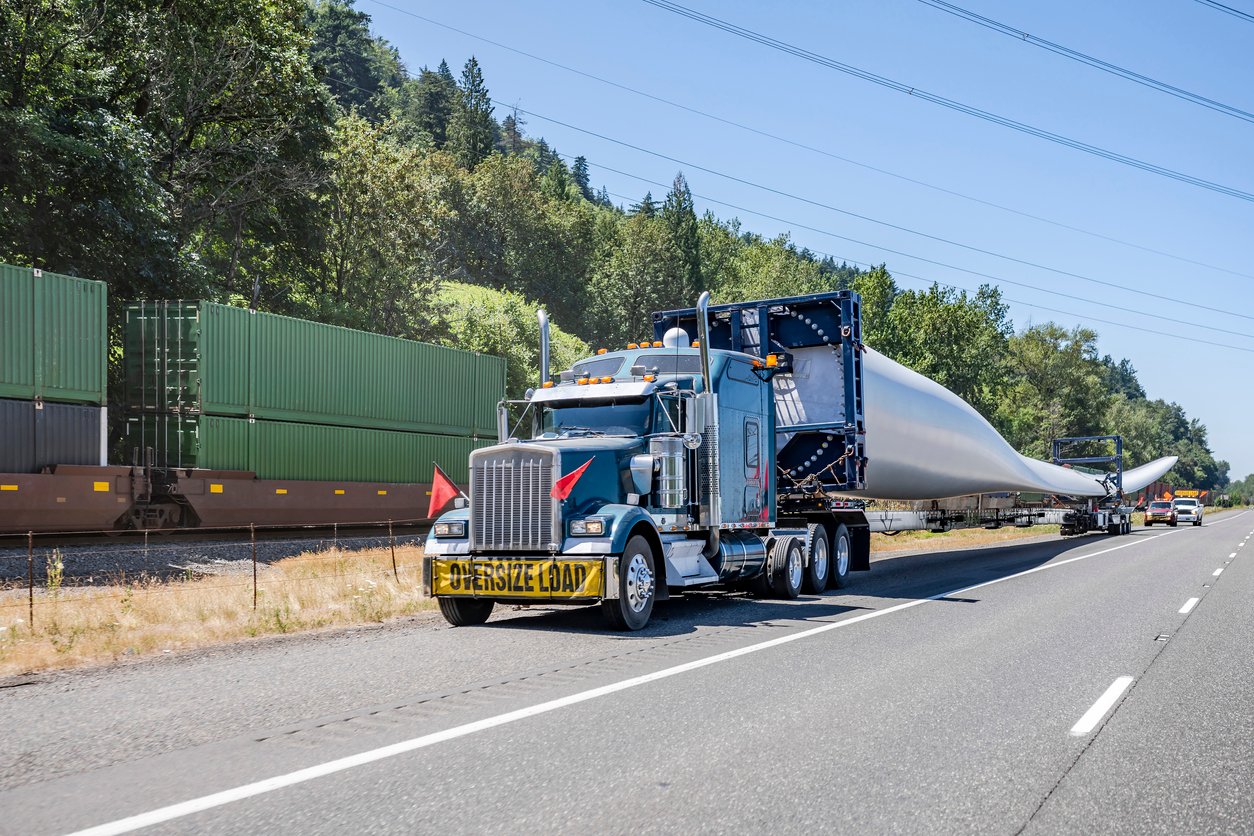 Step decks offer some advantages over their flat deck RGN trailer counterparts:
They have a high load capacity – up to 40 tons for both single-axle and tandem-axle models
They can carry loads weighing up to 80,000 pounds with ease (as opposed to 70 000 pounds)
Their design enables them to be easily transported by truck or other vehicles as well
What Are RGN Trailer Dimensions?
RGN trailers are available in many sizes. There are so many different options, it can be hard to give you a definitive list, as there are also many customized trailers available out there, and specialized partner carriers that offer these kinds of services to Moto customers.
To get a better understanding of some of the most common sizes and capacities of RGN trailers consult the table below.
| | | |
| --- | --- | --- |
| Length | Width | Weight Capacity (lbs) |
| 40' | 96" | 70 000 |
| 42' | 96" | 70 000 |
| 45' | 96" | 66 000 |
| 48' | 196" | 66 000 |
Conclusion
As we can see here, the gooseneck trailer is essential in the trucking world. And the next time you hear someone mention a gooseneck trailer, don't panic. You now understand its properties and how they work within the trucking industry.
This is just a sampling of the flexibility that an RGN trailer provides. By making arrangements with Moto, you can enjoy the safety and ease of RGN trailers. Simply let us know what you need, what you want and when you want it done, and we're happy to help.